Achieving the Perfect Smile
Braces are one of the many orthodontic treatments offered by Dr. Kenneth Grabowski Orthodontics. Treating children, teens, and adults, Dr. Grabowski combines new technology with more than 20 years of orthodontic experience to provide precise, effective orthodontics for patients of all ages.
While each treatment plan is patient-specific, there are common techniques and tips to keep in mind about braces. Patients and parents are encouraged to review the following information regularly to ensure the best result and long-lasting success of orthodontic care.
Brushing and Flossing
The two biggest and most important reminders Dr. Grabowski stresses are brushing and flossing with braces.
When you have braces it's very important to brush and floss after every meal in order to keep your teeth and gums healthy throughout your treatment. If you need help choosing the right toothbrush, toothpaste, and dental floss, please ask us and we can help you choose the right products for your teeth and your appliance.
Careful and consistent brushing and flossing around hardware during orthodontic treatment will achieve healthy teeth and gums!
Step 1
Using a dry brush with a small amount of toothpaste place bristles where gums and teeth meet.
Step 2
For 10 seconds on each tooth use circular, vibrating motions around the gum lines.
Step 3
Every tooth of both arches should be brushed slowly.
Step 4
Brush the lower teeth from gum line up and the upper teeth from the gum line down. Brush the roof of your mouth and your tongue too!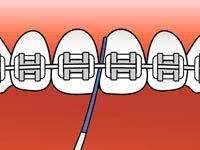 Step 1
Carefully thread unwaxed floss between braces and wire. You may find a floss threader helpful.
Step 2
Carefully floss around the braces.
Step 3
Carefully floss around the gum areas.
Step 4
Carefully floss around each tooth.